Northern Virginia gun Shop
7518K Fullerton Rd
Springfield, VA 22153
(703) 644-6504
Awesome service! Believed the extractor broke on my long gun and brought it in on a Saturday. Robert said he would take a look at it and confirm whether it was the extractor "in about a week." Robert called me that Tuesday (yes, three days later, and they are closed on Sundays), explained it was indeed the extractor, and gave me a detailed explanation on what my options were, to include walking me through the firearm manufacturer's website to locate the replacement kit. I ordered it up, had the kit in hand later that week, and dropped it off to Robert on Saturday (a week to the day I dropped the rifle off). Another week goes by (and mind you, this is the holiday season, mid-December), Robert calls me saying my rifle is ready! Granted I did not ask Robert initially what it would cost to fix it, as it is my favorite rifle and would pay just about anything to get it up and running, so I was expecting a crazy price. NOPE! I was surprisingly shocked at how low the price on the invoice was! Way well within my budget and MUCH less than what I though I was going to pay. Took the rifle to the range the next weekend and it shot like a beaut. Actually, it felt better than "Day One" when I first took it out of the case years ago! Can't say more about NVGW! Experts in every sense of the word! Hopefully, I will never have any more issues with my existing (and future firearms), but I know where to take them: NVGW!
Outstanding experience! They were able to install night sights on two of my handguns in less than 24 hours (and I did not even request a quick turn around!). This compares to another local gun shop (to remain nameless) that took three weeks to perform roughly similar work. Extremely professional and competent - I plan on returning for my future smithing needs.
As I stated in my earlier review, I'd be coming back. Trigger work needed on a new S&W revolver - mission accomplished. Excellent job as expected.
Took in my Colt Python after I took side plate off and could not get it back on. Yes - I am a dumbass so I was ready for the scolding. It was pretty mild - considering. Visions or horrifying damage to the snake's innards from my repeated attempts at closure danced in my head with 3 figure repair bills. Two days after I dropped it off, NVGW called saying the gun was ready. A whopping $50. At pickup we discussed not only the repair but a number of tips on care and cleaning of the Pythons. Thank god for NVGW. So nice to have a great gunsmith close by.
Great gunsmith, don't be detered by those who call Mr. Garrett as a grumpy old man he's not that bad. He is however a great gunsmith and there's no where else I take my guns for any issue. I brought in my M1 Garand just to be cleaned because I don't know a thing about them. I brought in a mosin nagant (a war trophy from my grandfather) to have it looked at and cleaned. I brought all 4 of my 1911's for cleaning and fitting issues and lastly I brought in my remington 700 to have him look at it and he asked how I pulled the trigger I had at the time I guess it must've been around 7 lbs or so and he took it down to 3.5 and I love it. Everything I've had done I've been very happy with, as you can see I'm a returning customer. As a note I learned today he is a class 1 gunsmith in that he doesn't do threading for barrels. I had a AMT silverballer that had a threaded barrel I wanted to have changed for a suppressor I bought for it but alas, he was unable to do a barrel thread, other than that bring in your stuff for whatever reason and Mr. Garrett will be able to hook you up
Source: www.yelp.com
Share this Post
Related posts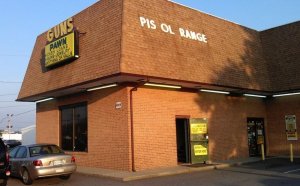 SEPTEMBER 22, 2023
YP - The Real Yellow PagesSM - helps you find the right local businesses to meet your specific needs. Search results are…
Read More
SEPTEMBER 22, 2023
Do a web search or crack open a telephone book, and you are sure to come across several music stores in Virginia. Most of…
Read More