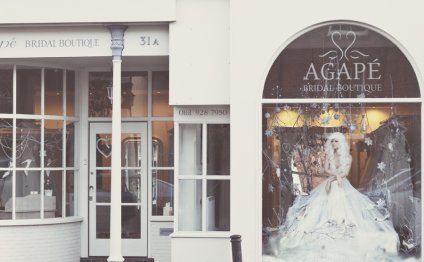 Virginia Bridal Shops
Ashley Grace Bridal is a bridal boutique that opened in December to service brides. Actually on the outskirts of Lynchburg – in Forest – this shop was born out of a college conversation between the owner, Teresa Thomas, and her daughter, Lauren (who is the blonde in the photos below). I recently caught up with Teresa to ask her a few questions about her store. Her story is peppered in between photos of some of the dresses they carry. Enjoy!
How did the idea for starting a bridal boutique come about? The idea of starting a bridal boutique began after talking with my 17 year old daughter about options for a major in college next year at Liberty. While discussing choices and talking about things that she enjoyed, the show 'Say Yes To The Dress' came up. At the same time, I was also looking for a new challenge since I had been at home with my three children for 20 years. After a little research, we realized that there were no bridal boutiques in Forest. I also have a 12 year old daughter, and the idea of a mother/daughter business really intrigued me. We felt like this was a perfect fit for us as well as being able to serve brides and create a memorable experience.
How did you arrive at the name Ashley Grace? The name Ashley Grace comes from the middle names of both of my daughters, Lauren Ashley and Madison Grace.
One thing that makes a bridal boutique unique is the lines that they carry. Tell us about some of your lines. We carry five lines of designer gowns.
Justin Alexander is a collection of mid-to-high end wedding gowns inspired by the 1950s and 60s and is well known for making the finest vintage and couture wedding dresses with an updated, modern twist.
Lillian West is a line that we felt perfect for this area and the large number of outdoor weddings. It consists of beautiful sheer layered gowns, tiered skirts and long lace.
Stella York emphasizes detail and distinction. The line is competitively priced and adds spectacular beading, glamorous laces, and enchanting fabrics to add a touch of elegance to each dress.
Maggie Sottero is a well known and popular collection that channels grace and romance. It features shimmering embellishments and lightweight fabrics in a variety of captivating designs.
Rebecca Ingram is the newest addition to Maggie Sottero Designs, making its debut in fall 2016. It offers timeless elegance and superior quality. We were fortunate to see its debut at the Chicago Bridal Mart.
What do you offer at the store? Ashley Grace caters to the bride with stunning dresses, exquisite accessories such as veils, jewelry, bridal belts, shoes. We also offer unique handmade flower girl dresses, tuxedo rentals and custom bow ties, gown cleaning and preservation, and lovely gifts for the special couple and the wedding party.
What makes Ashley Grace different? The day a bride chooses a wedding dress is a memory that will never be forgotten. At Ashley Grace, we want to make finding the dress as special as the day the bride wears it. Our goal is to give exceptional customer service and a unique personalized experience. Our bridal boutique was designed with an open floor plan to carry a large selection of gowns and finishing touches. It offers 5 exquisite dressing suites in private settings for our guests.
Are there any upcoming plans in the works? Even though we have only been open a few weeks, Ashley Grace is growing and expanding. The 2017 lines are coming in, new accessories and gifts are going up in the store. In January and February Ashley Grace will offer many opportunities for brides to get to know us better.
We will have a booth at the Virginia Bridal Show in Roanoke on Sunday, January 22 and our grand opening week will be February 19th – 25th featuring special events all week such as local vendor talks in our store, fashion shows, and prize giveaways. Follow us on social media and our website for a number of contests and giveaways. A couple of the most exciting events are a "cutest engagement photo" contest and a Justin Alexander dress giveaway.
Of course we love all things local – can you tell us how that connects with your business? This year our plans are to launch our own Ashley Grace line of dresses and accessories. We also love promoting local people and home businesses. Our store already carries custom bow ties for your special day from Twenty23 in Lynchburg, flower girl dresses and accessories that are made by a group of entrepreneurial mothers, and specialty robes from a home business. We would love to further support our community by having local wedding jewelry and accessories in the store.
We also think its very important to give back as we are blessed. Each month we will be donating a portion of our profits to worthy charities.
We at Hill City Bride had the pleasure of helping out on the photo shoot that you are taking a peek at. Here are the other vendors involved in showcasing some of the gowns of Ashley Grace Bridal.
Be sure to take a peek at the rest of the images and find Ashley Grace Bridal's information at the end.
ASHLEY GRACE BRIDAL
HOURS
Monday, Wednesday and Friday 10 – 6
Tuesday and Thursday 10 – 8
Saturday 10 – 5
Sunday by appt only
What does tactlessly mean?
What is coronary artery disease?
how ip helper works
What is the meaning of the name shalom?
How to learn english word meaning quickly?
What does on account mean?
What does demoted mean?
How to get fortnite?
What is the meaning of emblematic?
How to get blood out of clothes?
what does itunes helper do?
What is the meaning of human existence?
What does intra mean?
What are modi twins?
What does dunce mean?
What does wart on foot look like?
How to name a group chat?
how to provide default date value in html.editorfor helper mvc 5
How long to cook 2.75 lb frozen beef tips in an instant pot?
how to code upgrade dados open helper android
How to get rid of back acne scars?
Online dating tips for women who aren't pretty?
What does dog meat taste like?
How much are daily tips on royal caribbean cruise?
Come what may meaning in english?
How to find affordable health insurance 2022?
What does 🥴 mean from a girl?
What does makaveli mean?
How to lower heart rate immediately?
How to make netherite armor?
How to clean a leather jacket?
What time does papa johns close?
What is the meaning of two spirit?
Racing game where you do tricks with the cars?
How to throw a bowling ball?
How often should i replace my waterpik tips?
What is a century?
How to get free wifi on google map tricks?
How to do matte nails with glossy tips gel?
What is the meaning of knuckle?
What does ttm mean?
How to get your water to break?
What is quartz meaning?
Tips on what to do in case of a hurricane?
where to put helper class java
What does peppermint oil do?
How to test yourself for pid?
What does light colored poop mean?
What time does the fair close today?
What does brushless mean in tools?
Tips on how can we reduce text in a powerpoint presentation?
How to get rid of dizziness?
What does 2-22-22 mean?
Which statement best conveys the meaning of the text?
Bayonetta tips on how to know which way they will fly?
what are helper drugs microbiology
What is the meaning of the 144 000 in revelation?
How to cure bv in one day?
How to remove dip tips?
Tips on how to write a class?
How to know if a gurl likes you?
Tips on how to talk dirty to a girl?
How to say worcestershire?
When the sun has set no candle can replace it meaning?
What does due diligence mean?
how to talk to npcs with ploce helper in gta 4
What are tri tips?
What does renovate mean?
How cold does it have to be to snow?
What are cluster bombs?
How much to tip massage therapist?
How to cut an apple?
How to allow 3rd party cookies on mac?
How to install windows 10?
What does joint custody mean?
How to get more storage on ps4?
What does it mean when a man gets hot flashes?
Tips on how to get over a shy bladder?
What are sinkholes?
What dnd book has skill tricks?
What light through yonder window breaks meaning?
What is a dip manicure with tips?
How to share an instagram story to my story?
What does will smith's resignation mean?
Why was luke fired linus tech tips?
What does birth control do?
How to get rid of cat pee smell?
How to move apps on iphone?
What is an lp?
What is a skinwalker mean?
Where can you purchase a book explaining some of harry houdini greatest tricks?
How to correctly use q tips?
What does brawny mean?
How to increase water pressure in shower?
What does a blood clot in calf feel like?
How to uninstall apps on mac?
How to know if you have a fever?
How long to quarantine after covid exposure?
What does bugaboo mean?
Source: www.hillcitybride.com
Share this Post
Related posts
MAY 30, 2023
Along with its robust art, dining, and culture offerings, Virginia s capital has a lot happening lately retail-wise. A slew…
Read More
MAY 30, 2023
Springfield is home to the 200, square foot SCHEELS retail shopping experience that showcases Illinois largest selection…
Read More